Roll over image to zoom in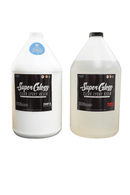 Description
Description
Super Gloss epoxy resin is UV resistant and designed to give a thick high gloss bright white coating on bar tops and tables. It leaves a glass-like finish without yellowing.
Advanced users create multi-layered castings, creations, and more...
This epoxy system cures rigid, blush-free, shiny, with a high gloss finish. It is self-leveling and will be a smooth coating too.  
Product Details:

Each Super Gloss Epoxy Resin Kit includes one 1/2 gallon of Part A-side Resin and one 1/2 gallon of Part B-side hardener. It is super easy to use since it's a 1:1 Ratio.
✅ Made to be a Brilliant white base on nearly any project.

💪 Brilliant High Gloss Finish.
💪 Resistant to Yellowing - UV Inhibitors added. 

✅ Cures Incredibly Smooth and Nearly Glass-like.
ABOUT Super Gloss Epoxy Resin: 
This product provides a fast cure and property development at ambient and low temperatures without accelerators and allows for a quick return to service. The typical pot life on this item is roughly 45-50 minutes based on mass and temperature.
The consistent working time provides Super Gloss Epoxy Resin with a working time and pot life between 45-50 minutes (100-gram minimum mass).  
Approved Applications: 

Super Gloss Epoxy Resin is made for Table Top Coatings, Wood & Metal coatings, Concrete and Pebble Coatings, Fiberglass wet lay-up, and Waterproofing & sealing. 

Advantages:

Cures like a rock (Hardness shore - D-85)
Acid, chemical, & moisture-resistant
Tensile Strength, psi before cracking - 7,500 
Compressive Strength, 15,400 PSI
A thin-film set time (3mil. film) for Super Gloss is roughly 5 hours at 78F. Fast cure and green time while exhibiting low exothermic temperatures (120C.) makes this product ideal for all applications. The full cure is 24 hours at normal conditions.
You will receive part A epoxy and part B curing agent (measured by weight), full instructions, and outstanding customer support with every purchase.
Mixing Instructions will be included with the kit and can be found online by following this link here. 

Not sure which epoxy resin is for you? Follow this link To review our comparison chart.
All prices are listed in USD. 
All products are in stock and ready to ship.
If you have any technical questions or need assistance we offer full customer support by phone and email:
The Epoxy Resin Store
Address: 540 Crane Street Unit A Lake Elsinore, CA 92530 
Phone: (951) 677-0400
Email: support@theepoxyresinstore.com
Hours of Customer Service: 8:30 AM - 4:30 PM (PST) Mon - Fri 
Closed: Sat - Sun 
We respond within 1 business day
Payment & Security
Your payment information is processed securely. We do not store credit card details nor have access to your credit card information.